It's not just a haircut. It's an experience
Barber in Dartford
established since 2008
With a fantastic reputation Deans Gentlemens Salon offers a first class experience with a cut and a finish each and every time.
Deans Gentlemens Salon in Dartford
Welcome to Deans Gentlemens Salon. Deans is a established barber in Dartford serving the local community since 2008. At Deans we offer a truly personal service in a friendly environment. Our team brings decades of experience to our salon and we are very proud to have a strong reoccurring client base which has be coming to us for years. Our team has a diverse hair and beard styling skill set, we make sure that when you visit Deans Gentlemens Salon is a truly personal experience. Leaving you with a cut and finish each and everytime.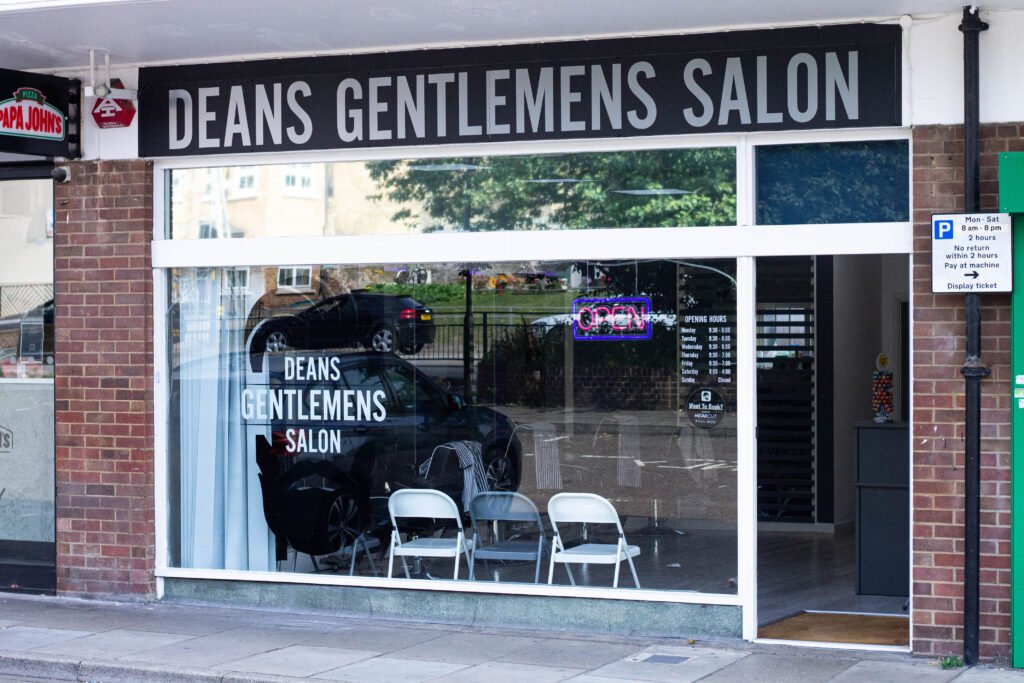 A first class reputation in Dartford
Across Google and Facebook we have over 180 5 star reviews. This reputation is something hold close to us and never take for granted.
Stephen Gallagher
3. September, 2021.
Just moved to the area and was nervous about booking a new barbers but got lucky booking the best straight away. Great website for making bookings Great barbers Great people Great haircut and beard trim Great price Great personability Great vibe The only thing not great are Dean's jokes but it's worth listening to them to get the high level of all round service. 😉😉😉 Highly recommend. Be back again next month.
Darren Wright
9. August, 2021.
I've been getting my hair cut at Deans Gentleman's Salon for over two years now and I genuinely would not use another barbers for as long as this gaff is open! Booking an appointment is easy using the Nearcut app and you can specifically have the barber/stylist of your choice and at what time. It's so straightforward! Dean is absolutely superb and not only gives a great haircut (actually listens to you and advises as well) but he's a great guy who's company I really enjoy and I'm glad to say has become a friend. I've had the girls Sarah, Carlie and Lexi give me a trim as well and I'd not hesitate to have any of them cut my hair. They're all fantastic ladies who are really friendly, good company and very good at what they do. I genuinely couldn't recommend this place any higher. I've told a few pals about it and now they use Dean's Gentleman Salon as well. Dean and the girls create a brilliant fun atmosphere and I actually look forward to getting my hair cut as I know I'll be happy with the end product but also have a laugh at the same time.
Tim Harvey
9. August, 2021.
The girls are excellent especially Carlie t. Best hair cuts in town.
Leach145
8. August, 2021.
Great, friendly service. Happy with my cut every time. Highly recommend.
simon moss
7. August, 2021.
Good quality hair and beard cut with friendly staff.
Matt Bolton
6. August, 2021.
Awesome service, fantastic and extremely high standard haircuts, great chat and even free golf advice! 😉 Simply the best hairdressers.
Tom stuckey
6. August, 2021.
I love going deans he's so polite and friendly and his haircuts are amazing too
Jade Osborne
6. August, 2021.
Amazing service from all staff!! Thank you for always making the boys feel comfortable they love having their hair cut!
Great place to get a haircut. The team at Deans treat all customers with a smile and banter. Nothing is ever too much. Highly recommend Deans Gentlemans Barbers
Gentlemens Haircut with Skin Fade
One of the fastest growing trends, the skin fade is one of today's most popular hairstyles. This advanced look entails very close hair on the sides and back, with variations of the fade height and style of the hair on top, depending on your presence. At Deans we love a skin fade as much as you do.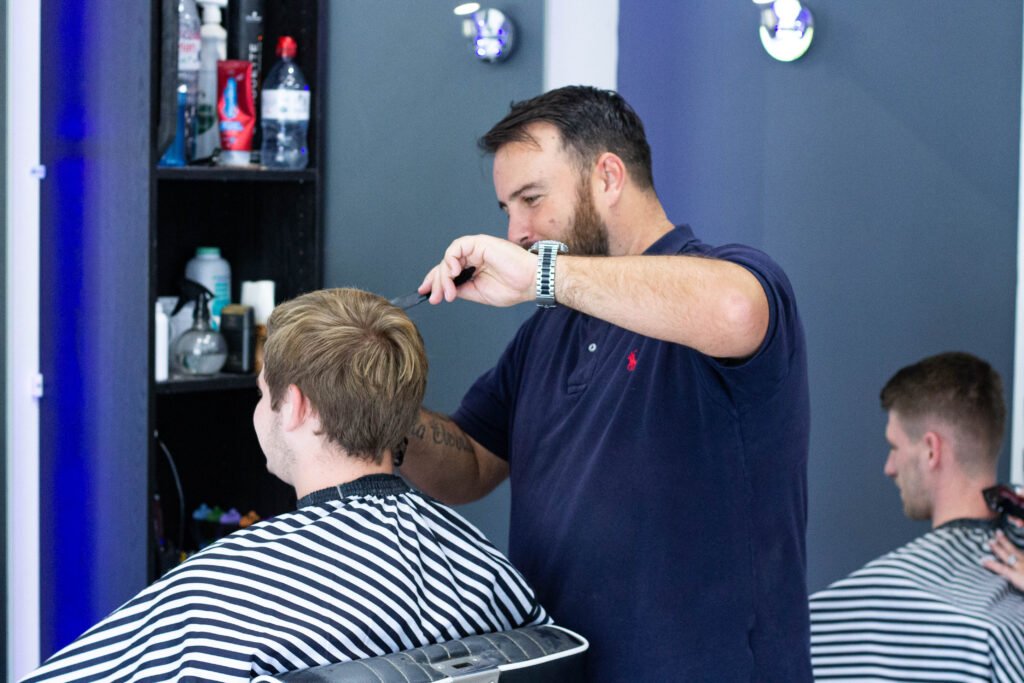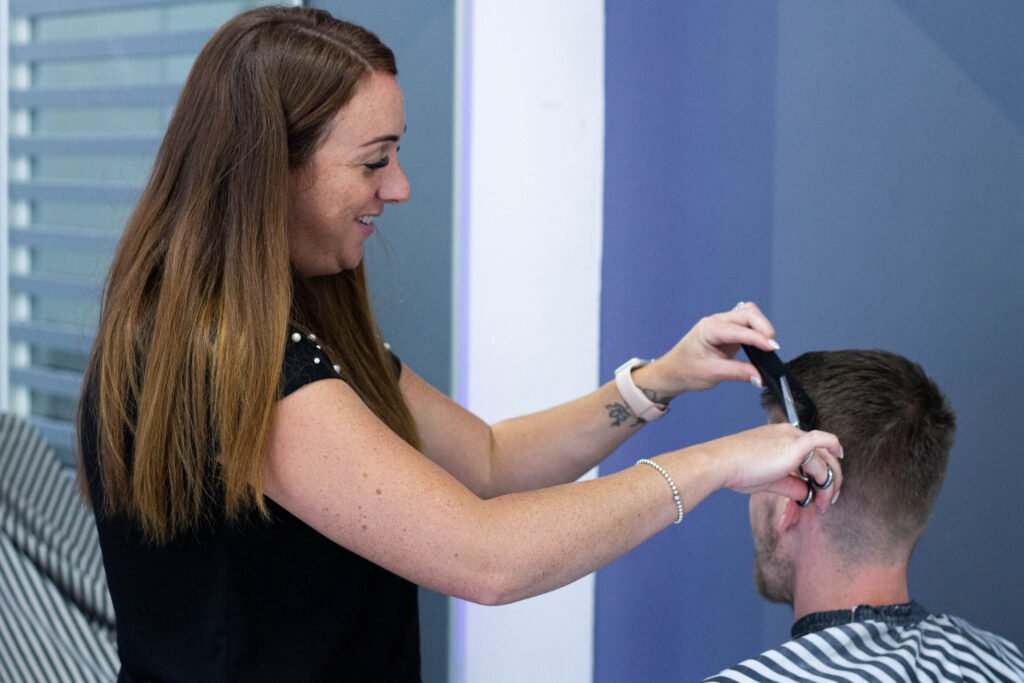 Gentlemens Haircut with Beard Stlying and Trimming
Complete the full look with styling and Trimming of your beard. At Deans we have experience in all styles of beards. Our beard styling and trimming service will give you that fresh look we all love.
Gentlemens Scissor and Clipper Haircut
With years of experience our Barbering team can provide you with the style you require. Our barbers are here to provide recommendations and advice if needed. Each one of gentlemens hair cuts are finished with cut and finish each and everytime.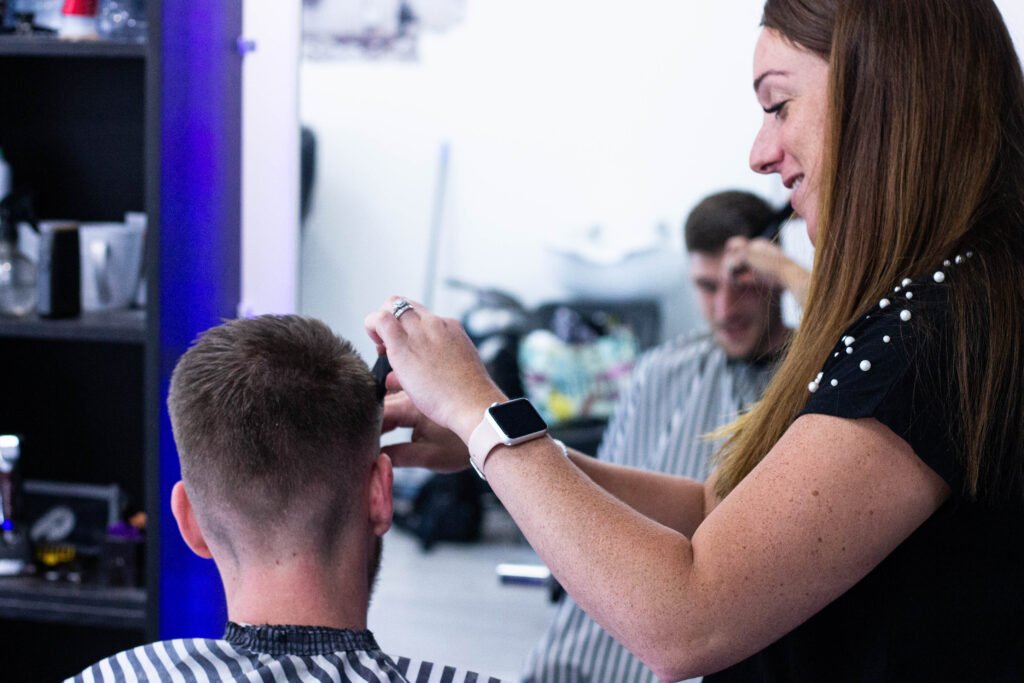 OAP/Boys Scissor and Clipper Haircut
At Deans we have experience in Barbering for all ages. We help make the Barbering experience for enjoyable. Our barbers are understanding and have the patience which should put you at ease.
Why choose Deans for your barber in Dartford?
Our barbers have a wealth of experience. Skilled in the art of Barbering. We are always ready to listen to your requirements.
We are open 6 days a week with flexible appointments during the daytime, evenings and weekends.
A welcoming personal service
At Deans we love getting to know our clients and like everyone that comes to our salon to feel part of our community.
We are always happy to offer advice. We take the time to understand your needs and discuss how we can meet them.
Based in Dartford Town Centre
Our salon is based in Dartford Town Centre and is convenient to reach by car or public transport. 
We have a simple booking system that allows you to easily book an appointment with your Barber. With reminders and a cancellation watch.
Book your next haircut in a matter of seconds. At Deans Gentlemens Salon we have an online booking system available directly on our website or through the nearcut app can be downloaded on both Android and Apple devices. Simply select your service, choose your barber and find a available time. Even if your desired time isn't available use the cancellation watch feature, where you will receive a notification if a appointment becomes available. 
Take a tour around our Barbers in Dartford
Our Salon is based in the heart of Dartford Town Centre. On the west side on Spital Street. You can access our salon by car with convenient parking outside. Travelling by public transport with the 96, 428 and 492 buses taking you into Dartford Town Centre, we are also just a 8 min walk from Dartford Train Station.
Our Barbers in Dartford Town Centre
3 Westgate House
Spital Street
Dartford
Kent
DA1 2EH